Only Polylines differ between the Openmtbmap and the Velomap. You can see here "what you are missing" when using the Velomap. But keep in mind, simplicity is often more important than knowing everything about a way, which is only for hardcore Mountainbikers or Hikers anyhow. While the VeloMap.org aims to show you everything you need to know for cycling as commuting, race cycling or trekking/touring - the Openmtbmap shows you more or less everything possible.
Polylines (Highways):
Explanation: There are 6 layouts in total. Colorwise however "thin", "wide"  "clas" are all the same. Easy and Hiking are only slightly different. They only differ in the width of the lines to best match the different GPS. The mapsource/Qlandkarte GT layout (referred to as "trad" from now on) however has different colors, with less contrast. Therefore in this mag legend for Polylines (Highways) there are always two examples. One using the "trad" layout (on the top), and one using the "clas" layout below).
Please note, as this question often pops up, many variables like tracktype are just munged together from other keys like smoothness or surface. If you want to know what is the primary factor please read the sourcecode of the style-file (see FAQ).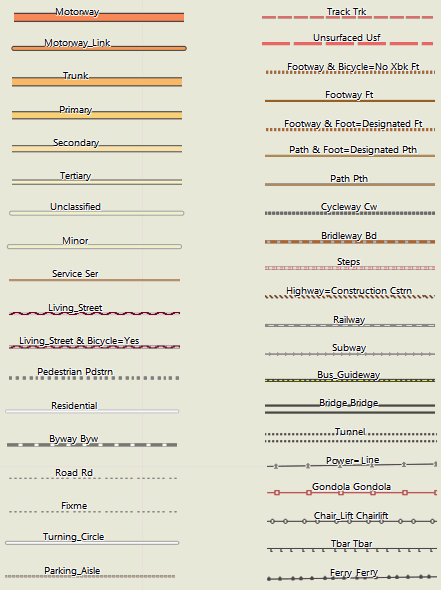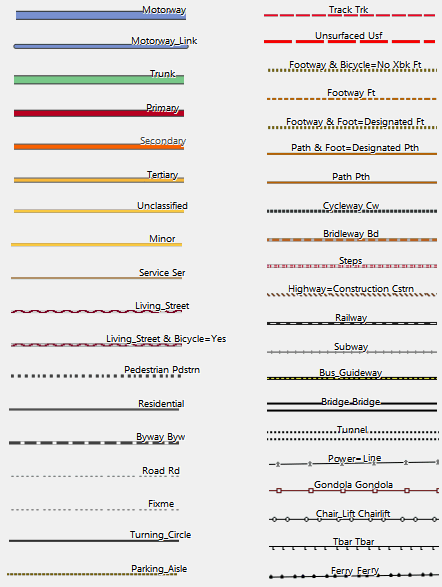 Ways with mtb attributes or sac_scale (clickable thumbnails for full size)
Additional ways and lines (clickable thumbnails for full size)
Abbreviations:
M12 / Mr34 -- the first number is the mtb:scale, the second number the mtb:scale:uphill. "r" stands for the way being part of a mtb route. See:http://wiki.openstreetmap.org/wiki/Key:mtb:scale
G1 -- tracktype=grade1 See: http://wiki.openstreetmap.org/wiki/Tracktype
Note however - that I also map the keys smoothness and surface to tracktype G value. So I try to get the best value - also if it may contradict with the actual value for tracktype.
T2 -- sac_scale=T2 (mountain hiking) See: http://wiki.openstreetmap.org/wiki/Key:sac_scale
Xbk --bicycle=no
Cr Or Mr -- route=bicycle / route=mtb See: http://wiki.openstreetmap.org/wiki/relation:route
See: http://wiki.openstreetmap.org/wiki/Key:highway
Pri=primary / primary_link
Sec=secondary
Ter=tertiary
Cw=cycleway
Min=minor
Unsf=unsurfaced
Uncl=unclassified
Living=living_street
Pdstrn=pedestrian
Trk=track
Pth=path
Ft=footway
Fp=footpath
Brdlw=bridleway
Rd=road
Byw=byway
Ser=service
Cyclelane/Cycletrack
See: http://wiki.openstreetmap.org/wiki/Key:cycleway
Bklane=cycleway=lane
Bktrk - cycleway=track
Opp - cycleway=opposite
Opptrk - cycleway=opposite_track